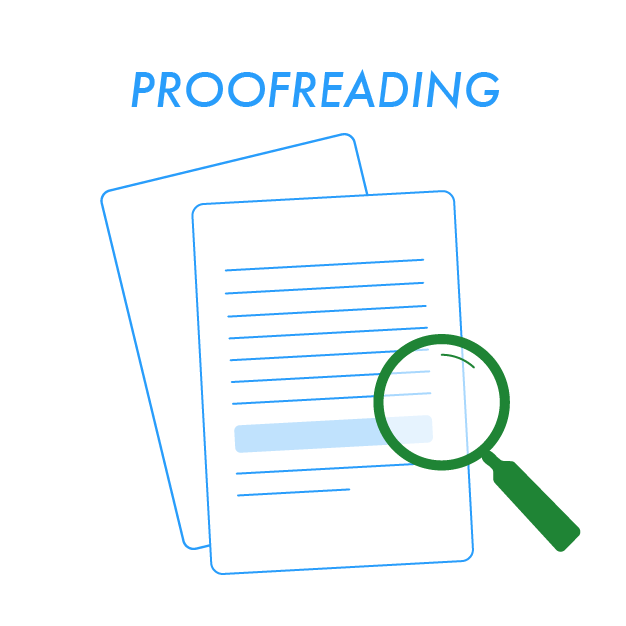 Proofreading and reviewing translated texts
Proofreading is a further review of a translated text by a professional proofreader and effectively ensures that there are no oversights, grammatical or translation errors in the document. It is particularly suitable for academic texts such as papers, theses and PhD dissertations, but also for corporate presentations and any text that will be published or disclosed.
GET THE MOST OUT OF YOUR TRANSLATIONS
Proofreading is carried out as standard on texts that have already been translated. This service differs from other activities, such as MTPE, in that it reviews both the grammatical and stylistic aspects of the text. For this very reason, proofreading is usually carried out with the source text side-by-side with the target text, to ensure that no part of the original content has been forgotten or misinterpreted in the translation. The work of our translation agency includes correcting grammar and spelling errors and selecting and improving vocabulary in cases where the meaning is not perfectly clear. Translation Agency offers its private and business clients a proofreading and editing service using a qualified team of professional, mother-tongue translators and experienced project managers. We can undertake proofreading projects in over 50 languages from all over the world, in a variety of language combinations: from English to German, French to Spanish, Russian to Japanese, Arabic to Portuguese, etc., even for urgent projects.
ACADEMIC TEXTS, CVS, PRESENTATIONS AND MORE
A proofreading and editing job makes it possible to perfect many different types of content for the most diverse purposes. Very popular, for example, is the proofreading of academic and university texts such as papers, dissertations and PhD research projects. Equally useful is proofreading for requirements relating to the creation and optimisation of company presentations, CVs, power point presentations, art projects and texts of other kinds requiring a second review. Thanks to the additional check carried out by a specialised mother-tongue translator, but not the person who translated the text, it will be possible to eliminate the risk of oversights and errors, producing high-quality content with outstanding communicative potential. Every text is delivered to the client after careful proofreading and editing by one of our translators and by a project manager or second translator. Place your trust in our experts for superior customised proofreading!
WE RECOMMEND OUR PROOFREADING SERVICE:
for academic texts, university papers and articles, theses and PhD dissertations
for any text that requires proofreading by someone other than the person who wrote it
to eliminate all risk of oversights and errors
to ensure the review of both the grammatical and stylistic aspects of the text
TAKE ACTION: FEEL FREE TO CONTACT US FOR INFORMATION ON PRICES AND CONDITIONS! ON PRICES AND CONDITIONS!