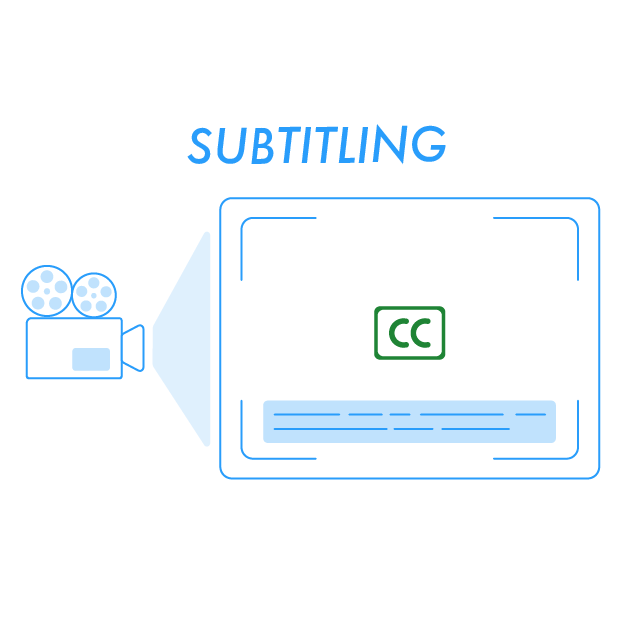 Subtitling is an effective way to facilitate the understanding of an audiovisual text. It makes it possible to widen the audience of multimedia content, making it understandable and accessible also to hearing-impaired and foreign audiences.
CREATION OF SUBTITLES FOR VIDEOS AND MULTIMEDIA PRODUCTS
The video is undoubtedly the content of the moment. Whether it's a commercial for YouTube or a recorded webinar, video uses a modern, engaging language that appeals to audiences of all ages. It is, however, extremely important to bear mind the restrictions imposed by language. Only those who speak the same language will be able to understand the meaning of the message, discover a new product or take a specific training course. Being limited to just one language therefore means missing the opportunity to reach a larger, or simply different, target audience (think of the hearing-impaired, for example). If the video contains speech, even in the form of a voice over, or superimposed written text, translating this speech or text into another language means increasing the reach of the content and engaging an even wider, more diversified audience. And this is where subtitling proves effective. By adding subtitles translated into the target language, it is possible to export any video or multimedia product and make it accessible to a foreign audience or specific user groups, without having to change the original voices and dialogue.
OUR APPROACH TO MULTILINGUAL SUBTITLING
Our translation agency offers a complete, bespoke subtitling service in over 50 languages. We try to select the best position on the screen to add the text to every video, to ensure that no important visual details are covered. We choose the best font, considering readability and size. We also respect as faithfully as possible the timing of the dialogue as much as possible, making it smoothly readable,
in sync with the lines and conversations
of the people in the video or with the voice-over. Lastly, for a translation that lives up to the client's expectations, it is crucial to maintain the tone and style used in the original text, reproducing not only the original message, but also the manner and intention with which it was conceived. Our experts are ready to examine your request and
deliver a subtitle file in the agreed format
, ready for use in your video.
Contact us without any obligation
for further information, and tell us what you need.
WE RECOMMEND SUBTITLING:
to add the translation of dialogue to a video, webinar or other multimedia content
to make an audiovisual product usable by deaf or hearing-impaired audiences
to internationalise a training course, corporate video or commercial with multilingual subtitles
to improve the usability of editorial videos, especially those intended for mobile devices, increasing viewing time even without audio
TAKE ACTION: FEEL FREE TO CONTACT US FOR INFORMATION ON PRICES AND CONDITIONS!