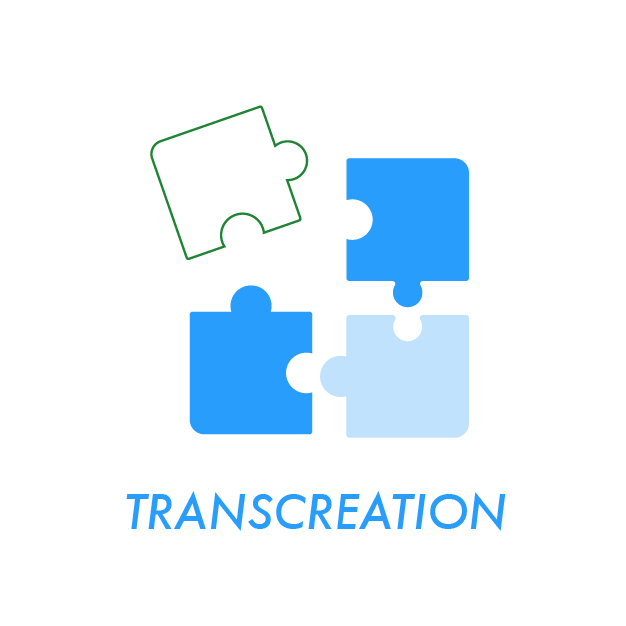 Transcreation is the creative translation of texts that require particular attention to style. It is useful for communication, advertising and marketing texts and for any text that demands a particular style, in keeping with the client's tone of voice.
Exciting and persuasive creative translation
Now, more than ever before, customers and audiences all over the world are becoming more and more aware. People are no longer content just to read and understand – they want to be moved, to think and to share. The transposition of a text is no longer sufficient to achieve this effect. We need to focus on transcreation, a modern approach to translation based not only on attention to detail, but on reproducing the style of the original text (the so-called tone of voice) in the target language. This kind of work is essential to ensure the communicative effectiveness of a content. The "transcreator", i.e., the professional translator specialised in transcreation, makes use of their stylistic and creative writing skills, developed during years of study and experience, aiming to guarantee a result that lives up to the client's expectations.
Bespoke transcreation
From communication to fashion, from marketing to luxury, from advertising to social media, transcreation offers huge competitive benefits, even for more formal documents such as brochures or corporate presentations. Thanks to transcreation, the brand concept and identity are maintained in the target language, delivering the authentic meaning of the text to the reader. The translated text will speak to the heart of the audience, no matter how distant the target country. Each piece of content will gain valuable added value, which will make all the difference in terms of brand perception, customer trust and engagement. Here at Translation Agency, we offer our clients the chance to directly discuss creative requirements, terminology and keywords to include (as well as those to avoid). We can also examine specific glossaries and any past translations, or communication documents such as brand books, in order to ensure maximum accuracy. Even after delivery of the translated text, we will remain available to assess possible updates of the vocabulary based on new instructions and market developments.
We recommend transcreation:
for translating communication texts such as brochures, newsletters, company presentations, articles, etc.
for communicating in different sectors, particularly fashion, luxury and clothing
for any text that requires special attention in terms of style, tailored specifically to the client's needs
to ensure the effective communication of a text
to recreate the style of the source text in the target language
to ensure that your texts add value in terms of reliability, customer trust and brand image
assistance that considers your needs, terminology and wording preferences
TAKE ACTION: FEEL FREE TO CONTACT US FOR INFORMATION ON PRICES AND CONDITIONS!